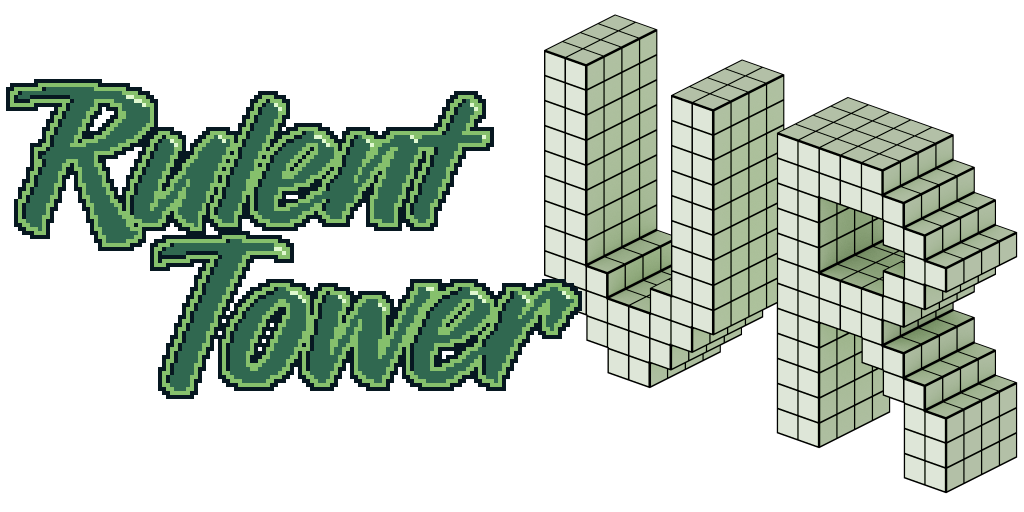 Rulent Tower VR
A downloadable game for Windows and Android
"Thanks for trying out the latest dimension in Game Boy games!"
For April Fools Day 2020, I decided to take my GB Studio project, "Rulent Tower", the adventures of a bunch of parody furry characters in an apartment building together, and "convert" it to VR. I only had a few days to smash it together, so the scope had to be restrictive, and a lot of things got left on the table. I wanted to finish adding in some of the ideas I'd had to scrap, as well as new ones I'd come up with. Cut to two-and-a-half weeks later, and now I'm ready to call this final.
This is a 5-10 minute gimmicky prototype. There isn't a ton to do here, as it's more about the novelty of seeing these pixel graphics converted to voxel and presented as if you were actually there in GB Land. There's a few oversized props you can play with, and maybe an easter egg or two, if you poke around.

There are two versions included. One intended for PC VR hardware, the other built specifically for Oculus Quest (and can run untethered). You'll need to sideload the APK for the Quest, but there's an easy-to-follow tutorial linked in the included Readme if you've never done that before.
Controls: Point your blocky mitts at something that interests you. If it's interactive, the small dark green beams will switch to light green. You can grab objects from anywhere those beams can point at, so don't worry about things being out of reach. You can teleport around by pointing the voxel foxel at the floor location you want to visit.
There's no in-game menu, so on PC if you want to Reset the Scene, hit "R" on your keyboard. If you want to close the game, use your VR overlay's Close Software function, or tap "Esc" on your keyboard. If you can't do either of these things, I'm sorry but I've accidentally trapped you in blocky greenscale virtual reality. I promised myself I'd stop doing this...
And I just want to assure you that, even though there were no bugs last time, there are definitely less no bugs now. Or is that more no bugs?
I want to thank my Patrons and other Awesome Supporters who make this stuff possible, including:
Sofox, SuperKing, Jessica Bumpus, MaskRider, A. Kitty, Matt Schock, Jeffrey Perigo, and braedon benson
If you want to see me keep making weird things like this, follow my Twitter ( https://twitter.com/setsunedev ). If you'd like to get credited in works and see behind-the-scenes content, you might also consider backing my Patreon ( https://patreon.com/setsune ).
Thank you so much for checking out Rulent Tower VR!
Credits:
Voice: Sofox https://twitter.com/thesofox
Music: "Peppy Regal Overworld" and "Swing into Victory" by krümel https://github.com/DeerTears/GB-Studio-Community-Assets/tree/master/Music
Font: "Pixel-Narrative" by Gabriel C. C. (with modifications) https://universesync.itch.io/pixel-narrative-pixelart-font
Software Tools Used:
Unity v2019.3.7f1-10f1 https://unity.com/
GB Studio v1.2.1 (Dev Build fd01821) https://www.gbstudio.dev/
MagicaVoxel v0.99.4.2 https://ephtracy.github.io/
Aseprite v1.2.16.3 https://www.aseprite.org/
Paint Shop Pro v7.0.4 https://www.paintshoppro.com/ (You probably shouldn't use this)
BFXR v1.5.1 (Web) https://www.bfxr.net/
Audacity v2.3.1 https://www.audacityteam.org/
Notepad++ v7.8.5 https://notepad-plus-plus.org/
| | |
| --- | --- |
| Status | Released |
| Platforms | Windows, Android |
| Release date | 93 days ago |
| Author | Setsune |
| Genre | Role Playing |
| Made with | Unity, Oculus Rift, HTC Vive, MagicaVoxel |
| Tags | anthro, Furry, Game Boy, oculus-quest, Oculus Rift, Parody, quest, Retro, Virtual Reality (VR), Voxel |
| Average session | A few minutes |
| Inputs | Oculus Rift, OSVR (Open-Source Virtual Reality), HTC Vive |
Download
Click download now to get access to the following files:
Rulent Tower VR - Final Version - PC VR
44 MB
Rulent Tower VR - Final Version - Oculus Quest
58 MB
Rulent Tower VR - April Fools Release (v0.20) - PC VR
36 MB
Rulent Tower VR - April Fools Release (v0.20) - Oculus Quest
40 MB
Comments
Log in with itch.io to leave a comment.
This was cute, thank you!
Hi, game looks nice! You should release it on sidequest too :) That's where most people look for quest games.
I hadn't considered that. Thank you!